Learning Hub
English
Children at Keyworth develop their speaking and listening skills across the curriculum. We use Philosophy for Children as a means of providing the children with thought provoking stimuli aimed at encouraging high level thinking and engagement. We follow and adapt Dramatic Progress in Literacy units where the children are immersed in a text and rehearse their writing through talk and performance.
At Keyworth, we use the National Curriculum as a basis for planning our lessons. Lessons are taught through the use of high-quality texts which are often linked to the half-termly topic. The teaching sequence begins with the immersion of the children within the text through the use of an engaging starting point, drama, speaking and listening activities, and gathering initial ideas.
Word and sentence level skills are then taught and developed in the context of the text with the children then applying these skills by writing a variety of different text types. This includes through teacher modelling, supported and shared writing, and task-led independent writing. Throughout the unit there are planned opportunities for the children to produce independent pieces of writing as a means of applying their taught skills and developing their creativity.
Children at Keyworth have the opportunity to read daily through a combination of independent reading, 1:1 reading, Guided Reading and whole class reading lessons. 1:1 reading is used as a tool for developing intonation and expression, an awareness of punctuation and author style, as well as providing targeted support for individual readers. During Guided Reading, the children are grouped according to ability and share a text with their peers, encouraging book talk, characterisation and their ability to raise their own questions. Guided Reading sessions are taught discretely outside of the English lesson.
We teach the children the process of reading during whole class reading lessons where the children are supported in developing a deeper understanding of a short passage of a shared text. Key themes are discussed and strategies for developing word level and comprehension skills are modelled. Having explored the text in detail, the children then apply their knowledge and understanding to a range of retrieval, inference and deduction questions with different layouts, formats and for different purposes. At the end of the lesson answers are reviewed to provide immediate feedback.
We use a combination of reading schemes including Collins Big Cat, Badger Books, Rigby Star and PM Benchmark. Children also have the opportunity to read high quality chapter and picture books, e-books, real life non-fiction texts and topic books linked to their learning. Furthermore, the children are given the opportunity to access different stories by a number of famous authors using audiobooks.
We are subscribed to First News and allow the children the opportunity to read and respond to texts using laptops through Reading Eggs. Children are able to access the Reading Eggs program at home and can access texts that are specifically catered to their ability. Please contact your child's class teacher if you require the details for accessing Reading Eggs at home.
Children at Keyworth are encouraged to read daily at home. We use a home-school communication book to keep a record of the books that the children read and to record any observations by parents and school staff as a means of recording progress and identifying next steps. Children who read regularly at home are rewarded with stickers, wristbands, bookmarks and certificates which are presented during the Rewards Assembly each week.
In KS1, phonics is taught daily for a period of 25 minutes. We use a Federation designed phonics scheme, which incorporates Big Cat phonics and Read, Write Inc for interventions. Phonics is taught through the modelling of sounds, visual clues, actions and repetition. Early Years and KS1 Phonics Workshops are delivered to parents to develop a shared understanding of what the children are learning in school.
Phonics is taught through the modelling of sounds, visual clues, actions and repetition. Early Years and KS1 Phonics Workshops are delivered to parents to develop a shared understanding of what the children are learning in school.
In Early Years and KS1, spelling is embedded within phonics lessons, as well as taught discretely in English lessons. Additionally, the children learn spelling patterns and rules through high quality texts during their English lessons.
In KS2 we have introduced a 'Spelling Bee' where the children are taught different spelling patterns and rules weekly. These are modelled through common words related to each spelling pattern with the children then having to apply the spelling rules to known words which are sent home as homework and to unknown words that have not been shared with the children. Common exception words are also identified and explored.
Handwriting is taught several times each week for a period of 10 to 15 minutes using the Letter-join Handwriting Scheme. In Early Years and KS1 handwriting is taught alongside phonics, while in KS2 handwriting is embedded alongside word level work and spellings.
Click on the link below to access the Letter-join Scheme.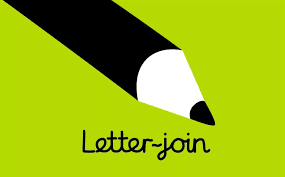 Tablet Login:
Username: Keyworth    Swipe code: a capital 'L' shape starting at the top left.
Computer Login:
User name: key       Password: worth